A high-quality grinding medium, CENOBEAD™ CZC has high density, making it very efficient for grinding materials having high viscosity.

Its grinding efficiency is similar to that of CZY, but its price is low, which means that it can be favorably applied to the paint and ink industry.

Its excellence is exemplified by the fact that CZC has been applied to the grinding CaCO3 for high viscosity paper coating. Through this, CZC has been proved to be a global standard grinding medium. It is generally known that it is difficult to apply a small high-density bead to a vertical-type grinding machine with a large capacity, but by applying a small high-density CZC to a vertical-type grinding machine, remarkably greater productivity can be achieved than would be possible through the use of alumina or zirconium silicate bead.
Features and Application
It is suitable for large capacity vertical mills for dispersion of CaCO3.
It is suitable for high-efficiency horizontal mills.
It is suitable for the production of high-viscosity paints and inks.
It has high wear-resistance and a bright brown color, so there is no contamination caused by the colour of beads. It is being used for TiO2 makers that require a true white color.
It has high grinding efficiency, making it suitable for aqueous agricultural chemicals.
It is suitable for the production of pigments and dyes.
Chemical Composition and Physical Properties
Chemical Composition and Physical Properties
Composition
Zr02
75 ~ 85

CeO3

15 ~ 25
Specific Density
≥ 6.20
Bulk Density
Hardness
≥ 1200
Standard Size
0.30, 0.50, 0.70, 0.80, 1.00, 1.20, 1.50, 2.00, 2.20, 2.50, 2.70
Sphericity
≥ 92
Packing
25Kgs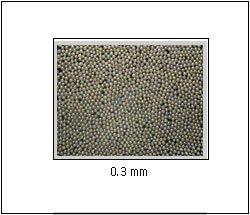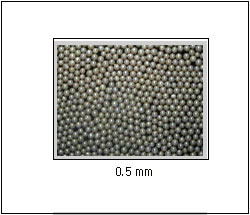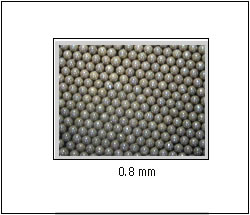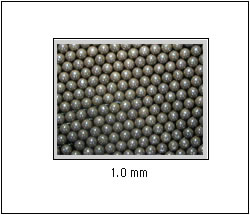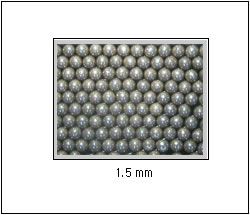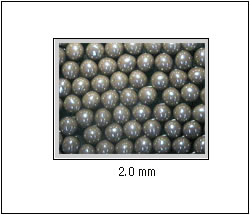 Micro Milling Beads
Typical Properties of Zirconox Micro Milling Beads

Chemical composition

ZrO2 80%, CeO2 20%

Density

> 6.1 gm/cc

Packing density/Bulk Volume

3.60 - 3.70 Kg's/ltr.

Hardness on Moh's scale

9

Hardness (HV10)

1100 - 1150

Crushing strength on 2mm dia grain

> 250 Kg

Water absorption

Nil

Porosity

Gas Tight

Grain Sphericity

> 0.8

Colour

Golden Brown

Surface finish

Glossy satin smooth
We reserve the right to modify the product specifications. Values quoted are typical results before sizing and packing. Beads are available in the following sizes: 0.4/0.7mm, 0.7/1.2mm, 1.2/1.7mm, 1.7/2.4mm, 2.4/2.8mm, 2.8/3.3mm.

We can also offer on request custom size or narrow fraction range size beads other than our standard sizes, if found feasible to produce them.
ZIRCONOX - THE WONDER CERAMIC MICRO MILLING BEADS
Zirconox beads have over 30 times more life than glass beads, about 6 times than the Zirconium silicate beads and about 15 times than the MgO stabilised Zirconia beads.
Zirconox beads mill 6 to 8 times faster than glass beads and 2 to 3 times than the Zirconium Silicate beads.
Zirconox beads mill 15,000 to 50,000 cps viscous formulations, because of its >6.1 gm/cc density whereas glass and other ceramic milling beads will float in high viscous formulations due to their lower density.
Zirconox beads involve insignificant mill down-time for cleaning/washing etc., while changing colour feeds.
Zirconox beads do not contaminate any ingredients and therefore do not cause any change in formulation colour shade.
Zirconox beads conveniently mill faster, high viscous formulations containing higher percentage of solids, thus achieving higher rate of production,smaller the bead fraction size, faster the milling, due to greater number of contact points.
Zirconox beads do not clog mill strainer or contaminate the milling slurry with broken beads due to shattering, as in the case of glass and other ceramic beads.